A Memorable Day Is Never Far Away In South Lake Tahoe
HEAVENLY VALLEY ESTATES
About Our City
Live in the heart of Lake Tahoe. A top destination for lovers of national parks, the great outdoors, blue skies, tall mountains, big lakes—can you smell the fresh air, yet? Whether you want to sit back by a crackling bonfire or read from a hammock strung between the pines, or you're looking to up your heart rate with hiking, biking, or skiing down a hill, South Lake Tahoe is your new oasis. Start your perfect day with a round of golf, relaxing at the beach, or heading out on the nearest trailhead. When hunger strikes, stop by your pick of local restaurants serving up any cuisine from Italian to the best burgers. Breweries, wineries, and good grub await—and it's all just minutes from your front door. Beat the heat of summer with cool beachy breezes and dips in Lake Tahoe. Map out swift hikes across flat terrain or steep switchbacks towards peaks. Explore the waterfalls of Shirley Canyon, then pitch a tent for total tranquility.

While South Lake Tahoe is a modern gem, the city's history can still be seen. Admire the 1930's glamor of Thunderbird Lodge, catch a view of the Fleur du Lac Estate from The Godfather Part II, or tour the Hellman-Ehrman Mansion. The Watson Cabin Museum is just minutes away, and all it takes is a closer look at the very terrain around you to examine the rocky layers at Donner Memorial State Park. South Lake Tahoe, California is the perfect place for folks seeking the thrill of busy restaurants, golf clubs, and casinos balanced with the peace of unending nature. Welcome home!
Emerald Bay State Park
Heavenly Ski Resort
El Dorado Beach
HEAVENLY VALLEY ESTATES
Things To Do
Hiking
Skiing
Biking
Casinos
Dining
Boating & Fishing
HEAVENLY VALLEY ESTATES
Our Community Amenities
On-Site Laundry
On-site laundry room located at the heart of the property.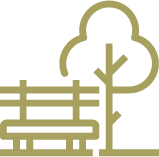 Community Area
Coming soon for residents and their families to enjoy!
HEAVENLY VALLEY ESTATES
Check Out The Neighborhood